BOOKS:
The Carp-Faced Boy and Other Tales
"Beautiful, haunting and grotesque. The Carp-Faced Boy and Other Tales offers stories reminiscent of traditional Japanese folklore alongside contemporary horror fiction. Matsuura's unique voice in its poignancy and lightheartedness is unforgettable." ~Back of the book blurb
"This fantastic collection by acclaimed short fiction author Thersa Matsuura will immerse you in dark mythos and fables of the exotic. Each story pulls you deeper into the pages where you'll lose yourself and hope to catch your breath but yearn for more."—Rena Mason, Bram Stoker Award® winning author of The Evolutionist and East End Girls.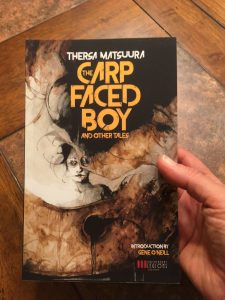 A Robe of Feathers and Other Stories
The Carp-Faced Boy and Other TalesIn Japan, the line that divides myth from reality is not merely blurred, it is nonexistent. Superstitions, legends, and folk myths are passed down through generations and pervade daily living.
When a child playing near a river fails to return home, it is whispered that she was swept away by an adzuki arai, or Bean Washer. When a man boarding a ship hears the ringing of an unseen insect, it is announced that a funadama (Boat Spirit) is present and so the auspicious harbinger of smooth seas and abundant catch is celebrated. Even something as innocuous as waking up to find your pillow at the foot of your bed is thought to be the trick of a makura gaeshi, otherwise known as a Pillow Turner. Nothing is as simple as it seems. Your neighbor isn't merely an eccentric old woman—she might very well be a shape-shifting, grudge-harboring Water Sprite.
The Japanese examine life and living with the keenest eyes and the most vivid of imaginations. Thersa Matsuura has captured that essence in this darkly insightful collection illuminating the place where reality falters and slips into the strange and fantastical.
Reviews
Publishers Weekly
"Inspired by Japanese folklore, Matsuura's debut story collection is as clever as the mythical spirits and creatures who romp through her fable-like tales. Although her penchant is for the malevolent and unforgiving, , the humans who populate these seventeen stories are seldom innocent victims. Even when led astray by otherworldly tricksters (such as the oni in "The Seed of the Mistake") or tortured by spiteful gods (like the God of Smallpox in "Yaichiro's Battle"), it is the humans' flaws – greed, cowardice, lack of compassion – that make them vulnerable. Matsuura depicts such failings insightfully, and, at her best, reveals them gradually."Anthologies:
Magazines/Journals:
Black Static #41 (TTA Press) My story "The Spider Sweeper" was in the beautiful and frightening Black Static Issue #41. Summer, 2014. The piece was illustrated by the amazing Richard Wagner. It's a story about not fitting in, life in a Japanese monastery, and spiders. Lots and lots of harlot spiders.
An interview with me (by the lovely Kris Kosaka) was in The Japan Times. March, 2012.

Manoa Journal published my short story, "Sasa in the Rain".  Winter, 2011
ANTHOLOGIES:
Inaka: Portraits of Life in Rural Japan
A World of Horror
The Beauty of Death
Madhouse, a Shared World Horror Anthology is in Dark Regions Press.  My story is called, "Jen Jen is my Friend Friend".
Here is the art for "Jen Jen". Burning bear. Yeah!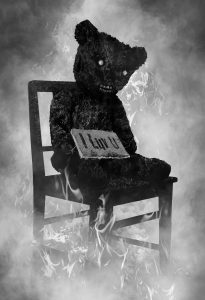 I'm proud to announce that my short, young adult story "The Zodiac Tree" is in Stone Bridge Press'  Tomo: Friendship Through Fiction–an Anthology of Japan Teen Stories .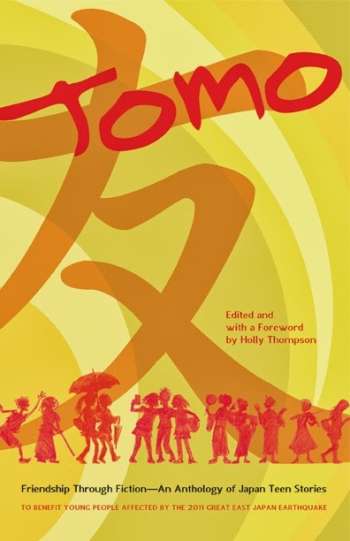 Edited by the wonderful Holly Thompson with cover art by John Shelley.  I am really excited about this one because all proceeds from the sale of the book will go to help teens in the earthquake and tsunami hit areas.
"The earth shook, the waters rose, Japan cried out…"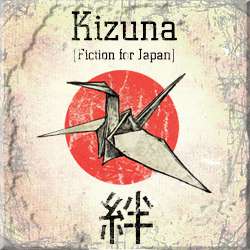 Kizuna is an anthology of  mixed-genre pieces put together and edited by Brent Millis.  There are a whopping 76 stories included in this one, including my short story, "The Power of Perspective".
One hundred percent of the proceeds go to helping orphans in the disaster-devastated areas of Miyagi, Iwate and Fukushima via the NPO, Smile Kids Japan.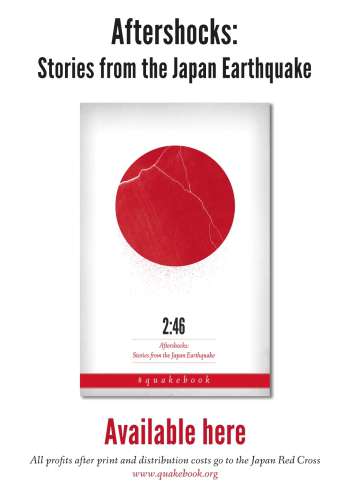 Immediately after the Japanese Tohoku Earthquake on March 11, 2011 a man by the Twitter handle of OurManInAbiko came up with idea to gather a bunch of short essays from people affected by the disaster, put them together into an anthology, sell that anthology, and then donate everything to the victims of the quake.
His dream came true, the anthology is called 2:46: Aftershocks. and my essay "Signs" is part of it.
Here is a condensed description of the book from Amazon:
"In just over a week, a group of unpaid professional and citizen journalists who met on Twitter created a book to raise money for Japanese Red Cross earthquake and tsunami relief efforts. In addition to essays, artwork and photographs submitted by people around the world, including people who endured the disaster and journalists who covered it, 2:46: Aftershocks: Stories from the Japan Earthquake contains a piece by Yoko Ono, and work created specifically for the book by authors William Gibson, Barry Eisler and Jake Adelstein."
You can download an e-book for free here. Or buy the bilingual print edition here. Again all money goes to the Red Cross to help the victims of the disaster.
My short story, "What the Cat Knew", was included in the Meadowhawk Press anthology Touched by Wonder.