Japan is narrow and mountainous and hugely populated.
When asked what I miss most about the States (while I have several answers depending on my mood) "space" invariably gets mentioned. No sprawling parks with giant old trees and hide away benches where you can read undisturbed for hours. No lush lawns with dogs and children romping around. No house that is  so large that if you happen to sneeze all of your neighbors won't hear.
Everything is built tight and close.
Which makes going for walks interesting. I can go on the same daily stroll in my neighborhood for years and still spot some odd WTH that makes me stop and shake my head. Or laugh. Or take a photo. And then if I get really wild and adventurous and trek off my beaten track, well…
This happened the other day when at first I saw this: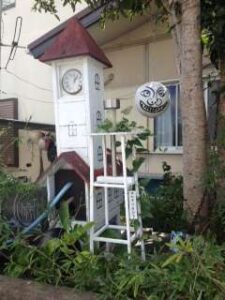 On closer inspection I found  a small sign written in a shaky hand announcing with an equally shaky arrow that there was a museum just behind the house, on the other side of a hedge.
Never one to obey those "How to Survive a Horror Movie" rules, I went right on in.  And met this fellow: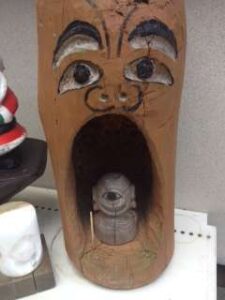 You can't see him all, but, YES that is Santa Claus right there beside a Cyclops-in-the-mouth-of-a-screaming-wooden-thing.  I continue on.
And then there was a little shack and this: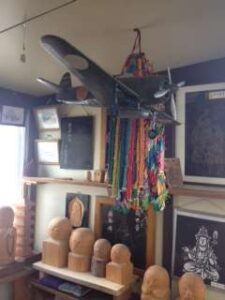 Lots of wooden ojizo, some crane origami, and a Zero fighter hung from the ceiling.
Moving right along I stumble across this guy. I'm assuming he's daruma, no eyelids and all. Hey, what's he looking at anyway?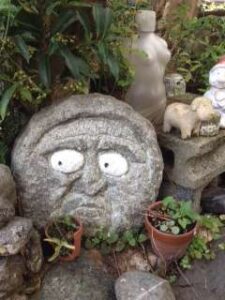 What? Behind me?
I reach the very back of the house, the point of no (easy) escape, still waiting for some old man with a hatchet to leap out at me. But instead I find this.
A soul-stealing, devil mask with red glowing eyes.
That's when I high tailed it out of there.
All in all, though, I came away with a nice warm feeling, thinking to myself, what a lovely hobby for some nice elderly man to have. He makes masks and statues and shares them with the neighborhood. He lures unsuspecting people into his tiny garden to entertain them. Lovely!
After further thought, I'm assuming that's what that warm, tingly feeling was. What does haven't your soul ripped out feel like anyway?