Several years ago I wrote a short story I was incredibly smitten with but  knew in my heart might never find a home.  It's called "The Spider Sweeper" and it just felt very odd. It's a horror story. It's a love story. It's set in Japan during the late 1800s.
I sent it out and collected a few rejections, then decided to sit on it for awhile. A year passed. Longer.  A couple of months ago I stumbled upon it again and re-read it. Lo and behold, I still loved it. So I thought what-the-hell and decided to send it out again.
Now I'm here today to say I'm tickled pink to announce "The Spider Sweeper" was picked up by a gorgeous magazine I hugely admire, Black Static.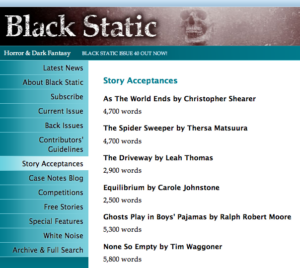 Like this post?
Sign up for my blog updates and never miss a post.
Thank you for subscribing.
Something went wrong.