Ever since I got back from the States in early September, it seems like I've refashioned myself into a kind of plate spinner, albeit a somewhat neurotic plate spinner. So as a reminder to myself and a heads up to anyone interested in what's going on in my life, here is a bullet point list of the larger saucers currently twirling precariously above my head.

Uncanny Japan is my very own — and still very green — podcast. It's short at 10-15 minutes and comes out on the 15th-ish of every month. You can find it on the website (Uncanny Japan) and on iTunes. I've even heard it's up in other places for Android. I don't know how all that works, if they picked it up or what. Seriously. I told you I'm green. But the content is fun and weird and dare I say, uncanny. I'm enjoying it so much I figure I'm bound to get better. And, hey, if you listen now, you can later say, "I knew her when…".
Here's the elevator pitch:
"Uncanny Japan explores all that is weird from old Japan. Strange superstitions, and old wives tales, cultural oddities, and interesting language quirks. These are little treasures I dig up while doing research for my writing."
It's 100% free. Give it a listen and tell your friends. Also, if you have any thoughts, opinions, or ideas for the podcast, let me know. This is very much a wok in progress.
Next, I have spent the past year mustering up the gumption to start up my own Patreon page (For those who aren't familiar, Patreon is a place where you can support artists and get a little bit back, too).  After months of epic wishy washy-ness, I finally pulled the trigger and launched my page.
The monthly support I get from Patreon will go toward both my podcasts and my writing. I think I have some neat rewards available, especially for anyone interested in Japan and its culture.
One example is that for only $5.00/month and up I will send you a recording of a Bedtime Story. This is me retelling and very often reimagining an old Japanese folktale. I'm searching out the more obscure ones, so it will more than likely be a story you've never heard before. There are also some other neat rewards at the higher levels, too. So if you're curious about that sort of thing, give that a gander right here.
And my last (but certainly not least) spinning plate, is my new book!
*My Collection of Short Stories: The Carp-Face Boy and Other Tales.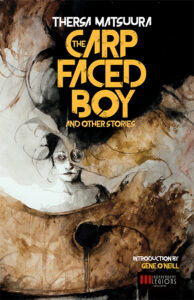 This is a bundle of ten dark (some say horror) stories, published just recently by Independent Legions Publishing. There is both a print and ebook edition. The last time I checked the Kindle version was going for less than four bucks. 
Here you will find stories about a carp-faced boy, a dancing monkey with magical powers, and a creepy theremin player with a secret, just to name a few.
I'm going to write a post very soon as a kind of companion to the book. A little insider information, if you will. I'm also going to podcast about some of the stranger things I discovered while researching the stories. So if you're interested in my freaky, Japanese-themed tales, please look here. 
Wew! So there you have it. Those are my biggies. While there are quite a few other plates in various stages of rotation, I'll keep this post short and limit it three. I'll get to those other saucers later.
Everyone take care. Stay sane. Do something nice for yourself today.